Hotel information

The conference will be held at:
New World Renaissance Hotel, 22 Salisbury Road, Tsim Sha Tsui, Kowloon, Hong Kong.
Phone 852-2734-6663
Fax 852-2734-6071
Please download the Hotel Reservation Form, fill it and fax it to the hotel office directly:
(The discount rate is HK$650 per night by using this reservation form!)
RTF Format
PDF Format
HTML Format
The Hotel is centrally located in Tsim Sha Tsui, the most vibrant shopping, dining and entertainment district in Kowloon, the 543 room hotel offers an outdoor swimming pool, health club, shopping arcade, and 5 restaurants and lounges offering local and international cuisines.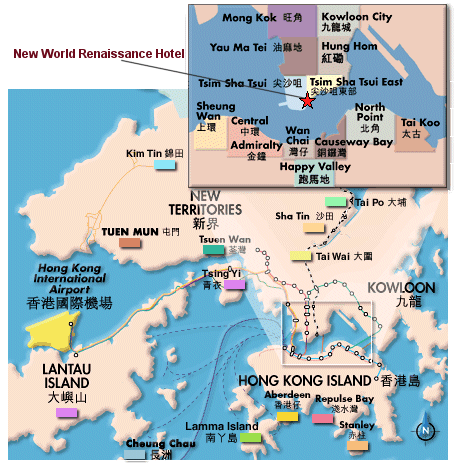 How to reach the hotel from airport?
The new Hong Kong Internation Airport is your first entry point to Hong Kong. Click Here to check the airport floor plan at your arrival. New World Renaissance Hotel can be reached by three convenient ways. You are recommended to select the first way.

| | |
| --- | --- |
| 1. | This is a convenient way that costs HK$120. Just proceed to EXIT A after clearing customs and look for the New World Renaissance Hotel Counter where hotel representative will be pleased to assist. You will be shown to take a shuttle bus for direct transport to the hotel. The bus services every 30 minutes and drop-by 3 hotels. The magnified floor plan is shown below: |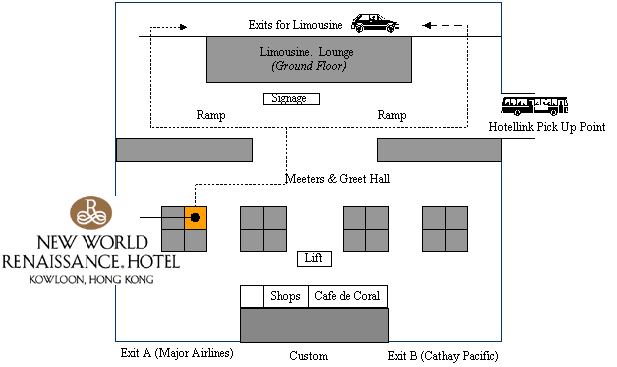 | | |
| --- | --- |
| 2. | Take the Airport Express (AEL) train to Kowloon Station. (The train operates at 10 minutes interval. Travel time is around 19 minutes and it costs HK$80 one-way). At Kowloon Station, take the free shuttle bus K4 provided. |
| | |
| --- | --- |
| 3. | This is the fastest way. Take a taxi (around HK$270 in normal traffic conditions). If you plan to take a taxi, please get your destinations written in Chinese. |
| 4. | For a way as fast as taxi but more comfortable, you can reserve a hotel limousine for HK$420. Simply tick the optional box in the hotel reservation form. |