Hongbo Deng (鄧洪波)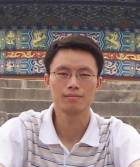 PhD Student (Aug, 2006 ~ )
Rm 101, Ho Sin-Hang Eng. Bldg,

Dept. of Computer Science and Eng.,

CUHK, N.T., Hong Kong

Email: hbdeng[AT]cse[DOT]cuhk[DOT]edu[DOT]hk
Web Mining

Information Retrieval

Machine Learning

Social Network Analysis

Computer Vision and Pattern Recognition
Visiting Student (Mar 2006 – July 2006)

Intern Researcher (May 2005 – August 2005)

Motorola China Research Center, Motorola Labs, Shanghai, R.P.China

"Panoramic Image Mosaics project"
Ph.D Student Dept. of Computer Science and Engineering, Aug 2006 - Present
The Chinese University of Hong Kong
M .Eng. Communication and Information System (National key subject) , Sep 2003 - June 2006

B .Eng. Electronic Engineering, Sep 1999 - June 2003
South China University of Technology, Guangzhou, Guangdong, P.R.China
Tennis, Billiards, Basketball, Table-Tennis, Music, Travel
Project Descriptions

Project Demo
Hongbo Deng, Michael R. Lyu and Irwin King, "Effective Latent Space Graph-based Re-ranking Model with Global Consistency," In Proc. Proceedings to the Second ACM International Conference on Web Search and Data Mining (WSDM 2009). Barcelona, Spain, 2009. [AR: 29/170 (17%)]

Hongbo Deng

, Irwin King and Michael R. Lyu, "Formal Models for Expert Finding on DBLP Bibliography Data,"

In Proceedings of The Eighth IEEE International Conference on Data Mining (ICDM 2008).

Pisa, Italy, Dec. 15-19, 2008. [AR: 70/724 (10%)]

Expert Finding Demo

Hongbo Deng, Jianke Zhu, Michael R. Lyu and Irwin King, "Two-Stage Multi-Class AdaBoost for Facial Expression Recognition," In Proceedings of International Joint Conference on Neural Networks (IJCNN 2007). Florida, USA, Aug.12-17, 2007.
Postgraduate Studentship of CUHK from 2006 to current

Excellent Graduate Student of SCUT in 2005 (top 4%)

Scholarship awarded by Huawei Corporation in 2005 (top 4%)

Scholarship awarded by CAI Jiangzhong in 2005 (top 1%)

Second Prize in the 7 th "Challenge Cup" of College Students in Guangdong Province in 2003

Outstanding graduation thesis in the South China University of Technology (top 10%) in 2003

Excellent League Cadre of SCUT in 2002

Three-A Student awarded by South China University of Technology from 1999 to 2003

Patents: Chinese patent granted in the area of early learning machine of Children, 2003