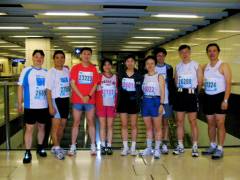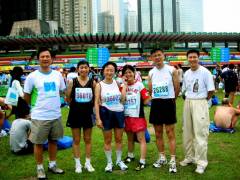 March 4, 2007. The road runner gang from the Engineering Faculty of the Chinese University of Hong Kong, CUHK, and Hong Kong Polytechnic University ran the Standard Chartered Marathon 2007. Prof. Irwin King did not complete the full marathon, but finished the half marathon in 2:50. The weather was hot and humid. The temperature was around 21 degree celsius and it rained that morning with a humidity of 95%. The full marathon started at 7:40 am and the winner took 2:17 (five more minutes than last year's winner) to complete the tough 42.2 KM course.

Prof. Michael Lyu and Xiang Peng also ran the Half Marathon under 3 hours. Congratulations to them!

The left photo was taken at the Hung Hong KCR Station before the marathon and the photo on the right was taken at the Wan Chai Sports Stadium after the run. People in the right photo (from left to right) are: Irwin King, Laiwan Chan, Lu Qin, Evangeline Young, KH Lee, and Jimmy Lee.